Beautiful handmade products for the house and to wear
I am Niki, a mum who, after years of enjoying making presents for friends and family, discovered that friends of friends where asking me to produce things for them – the requests started coming in thick and fast from as far away as the USA. The house quickly became overrun with fabric, wool, beads and when buttons started appearing in the evening meal I felt it was time to move out, pinch some space at my husbands office over looking the walls of the ancient castle of Conwy, the river and the mountains on North Wales.
The name of my company stems from my darling children's names, the fairy was drawn by myself, the poem on the labels was created by a very good friend and the type face on all my labels and on the logo has been hand drawn by a very clever designer at my husbands business.
This is the foundation that has grown from the beginning and feeds into every piece of my work, the home grow, nurtured and individual of the handmade. The very beginning, the first seed of an idea is sparked by inspirational vistas that surround me constantly, the warmth of my close family and my dearest friends, it flows from the beginning source into my paintings, jewellery, home wares, clothing and accessories.
As I hand make all my products I love the fact that no two are the same, the raw materials I use are important and have so many tales to tell. Some are newly bought, but always in a small amount, other pieces find me from all over the place, pieces of fabric from anyone who knows that I make things come to me as they clear out old cupboards, with stories of how Aunty Mabel used to make her own clothes and these pieces are left over and being so pretty they hadn't wanted to throw them away, they wanted the bits to be made into something to be cherished. Peoples left over pieces of curtains from newly furnished rooms, buttons from great great grannys. I have my mums cherished bead collection and my husbands Grandmothers button collection, they all find themselves having pride of place on my products and become so much more than a bead or a button, they become a star all of their own.
The raw materials used are important to me because I don't mass produce, any of my products, can use a combination of materials, allowing me to be as creative as possible.
All the items on this page are handmade and unique, I hope you love them just as much as I do.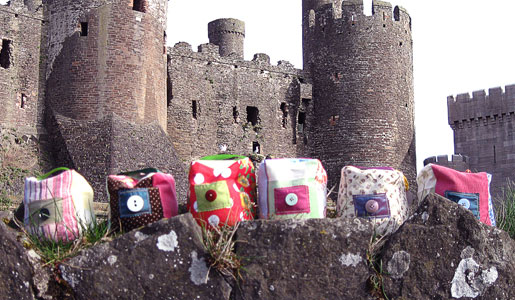 Patchwork Doorstops
These use all those little bits of material that was piling up and wondered what to do with it. They fit with any interior - their patchwork and multicoloured fabric sees to that. They are hand finished with a ribbon handle and a cheeky button on the front. They are filled with rice so no chance of a stubbed toe!
Size: 12x12x16cm Price: £20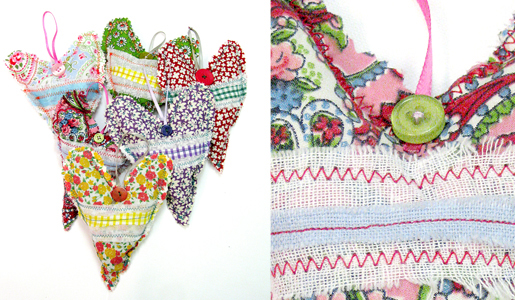 Lavender Filled Hearts
Mix and match colour ways to hang in your wardrobe or off a door handle.
Size: 10x12cm Price: £8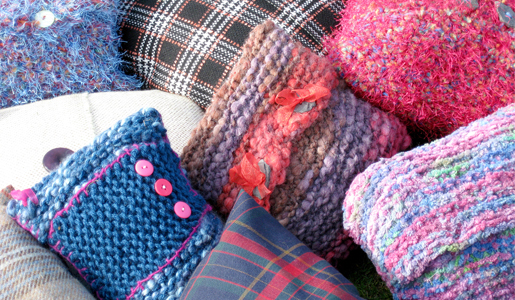 Snuggly Cushions
These are all about the fabrics or wools they are made out of. I never quite know what the finished article will look like as it evolves with the feel of the materials. All are tactile, squashy and cosy, finished with a button - vintage, slate, shiny or new.
Size: Mixed Price From: £17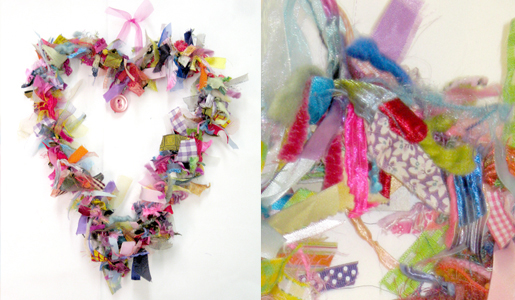 Heart Garland
Bright, tactile and fun. Made from wire, fabric and ribbon then finished off with a button, these make an excellent thank you or house warming gift; or maybe just a treat for yourself. Each has a wire or ribbon loop so these friendly hearts can be hung almost anywhere. Just choose a size or colour and i'll do the rest.
Size:
| | |
| --- | --- |
| Small - 18x18cm | Price: £15 |
| Medium - 27x27cm | Price From: - £20 |
| Large - 31x38cm | Price From: - £25 |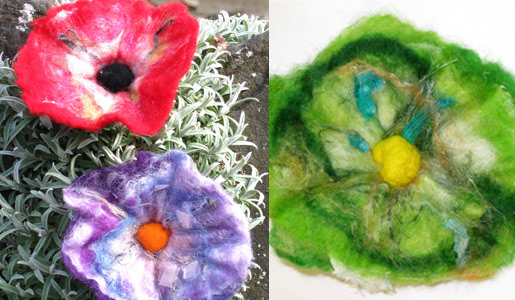 Flower Corsages
These beautiful flowers are handmade from felt, using a multitude of coloured wool tops and fabrics. To look fabulous, I quite like to pin them to jacket lapels, cardigans, waistcoats or handbags.
Size: 9cm across £20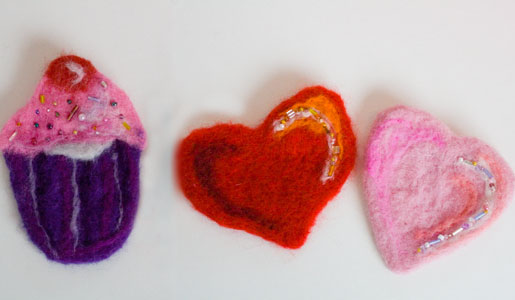 Heart and Cupcake Brooches
Handmade from felt and embellished with gorgeous beads.
Size: Large 10x7cm £15 - Small 7x4cm £10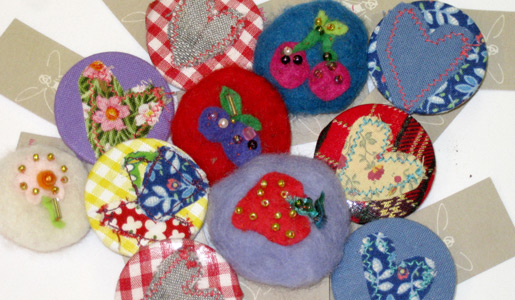 Badges
These are fun little bits of stuff. Choose from paper picture badges, embroidered fabric badges or our handmade felt badges with small embroidered and appliqued images, finished with tiny beads.
Size: 4cm across Price From: £1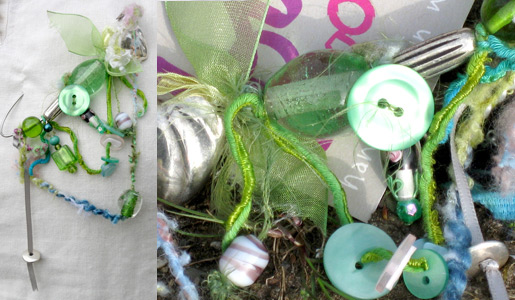 A Magpie's Dream
Inspired by all the beautiful beads and buttons i've collected over the years. Glamourous, gorgeous, beautiful brooches that bring a wow factor to any outfit. Packed full of glass beads, silky ribbons, shiny metal and or course buttons - they look sensational.
Size: 14x14cm Price: £50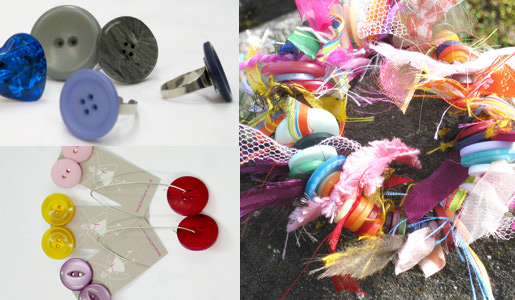 Button Jewellery
Looking at my ever growing (but now ever decreasing!) pile of buttons and finding them such smiley things I wanted to let them shine for themselves. Because I use a mixture of vintage and new buttons you never know quite what you will find. Choose from rings, dangley, stud or clip-on earrings, cufflinks or a bracelet.
Price:
Stud and clip on Earrings - £7
Dangly Earrings - £9
Rings - £10
Cufflinks - £12
Bracelet - £15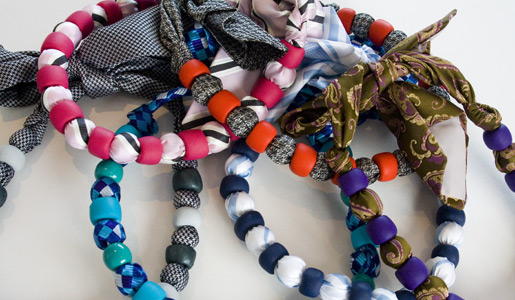 The Old School Tie
These are gorgeous and probably the smartest item in my range, for the less over the top dresser in us all! All the ties we use have had a previous life story and often I use this to decide what beads I will make or use to breathe a new life into them.
Length: Tie Length Price: £25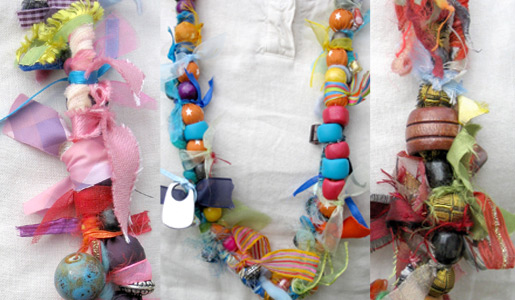 Holly's Necklace
No disappearing into the background when you are wearing one of these. Based on my experience, complete strangers will approach you and ask you where you bought it! These start as a length of fabric which we then decorate and fill with handmade, wood, glass and metal beads, buttons, ribbons and wool. They have so much going on in them they will go with any outfit.
Length: 150cm Price: £85
Scarves:
Wherever we can, we try to use wool that has been hand dyed in mid Wales. The overall collection of scarves vary constantly as we get inspired by different wools and stitches but these are a few of the core ones we repeat the style of: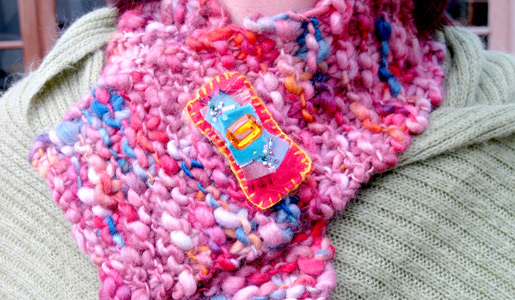 The Just So
Ideal to wear with a jumper or jacket on a chilly day when you don't want swathes of wool to deal with. They sit neatly around your neck, keeping you warm and bringing an extra band of colour to your outfit. Each one is finished with a handmade felt cushion badge which when the weather warms up you can transfer to a jacket or top.
Length: 72x13cm Price: £35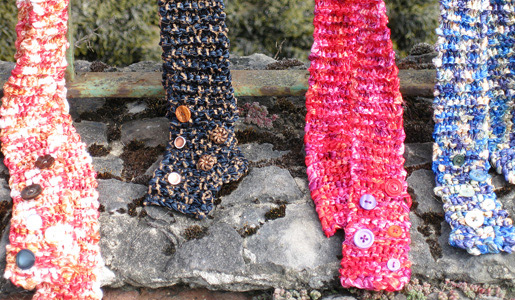 Ribbon Ties
A small frivolity rather than something to keep you warm. These are really pretty, finished with buttons and can be simply flung around your neck or our favourite - worn tied as a tie.
Length: 180x4cm Price: £20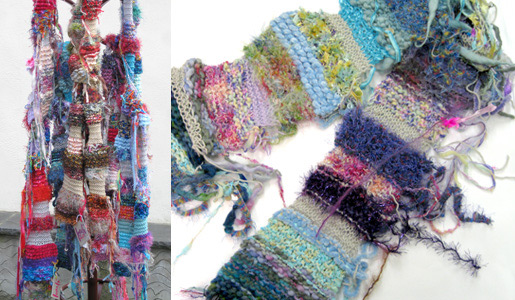 Mrs Dr Who
Inspired by year round walks in our incredible country and seaside. Again looking at the ever increasing pile of amazing wools and ribbons and wondering how I could use all the jumble of colours and textures I loved together as a whole, the outcome was one of my favourites - Mrs Dr Who. They take hours to knit but are worth every minute. Hand finished knots, threaded buttons and beads along the length add to the exquisite finish. Gorgeous!
Length: 210x14cm Price: £85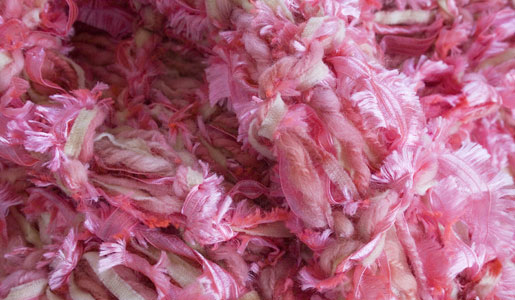 Oodle Noodle
These are so glamourous because of the beautiful wool and ribbon used giving each scarf oodles of texture and colour. They wrap around you making you feel cuddled. Finished with long tassels that give the wearer even more to look at. A very grown up and squashy scarf.
Length: 275x22cm Price: £65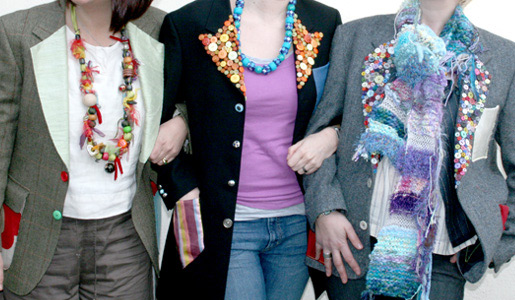 Sensational Jackets
Fabulous jackets that I let my imagination run wild with! They have the element of the original but the edge of the re-found. All individually hand-embellished and customised to within an inch of their lives!
Price From: £65
So you've seen a Louli product you'd love to buy - what next? You want it in pink and green, no problem!
For help with sizes and colours with an order please drop me an email - info@louli.co.uk to run through what you might like.
*Please note the sizes I have measured are all approximate. All products are handmade and will vary slightly from one item to the next.
**Postage/shipping will be quoted for on the day of purchase as prices vary so much and from country to country.
***Exchange rate $/€ to be confirmed on day of purchase
back to top